Quote from the online books at the Lucis Trust website.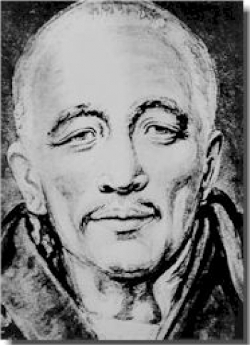 "Suffice it to say, that I am a Tibetan disciple of a certain degree, and this tells you but little, for all are disciples from the humblest aspirant up to, and beyond, the Christ Himself. I live in a physical body like other men, on the borders of Tibet, and at times (from the exoteric standpoint) preside over a large group of Tibetan lamas, when my other duties permit. It is this fact that has caused it to be reported that I am an abbot of this particular lamasery. Those associated with me in the work of the Hierarchy (and all true disciples are associated in this work) know me by still another name and office. A.A.B. knows who I am and recognises me by two of my names."
"I am a brother of yours, who has travelled a little longer upon the Path than has the average student, and has therefore incurred greater responsibilities. I am one who has wrestled and fought his way into a greater measure of light than has the aspirant who will read this article, and I must therefore act as a transmitter of the light, no matter what the cost. I am not an old man, as age counts among the teachers, yet I am not young or inexperienced. My work is to teach and spread the knowledge of the Ageless Wisdom wherever I can find a response, and I have been doing this for many years."
Extract from a Statement by the Tibetan
---
Djwal Khul (variously spelled 'Djwhal Khul', 'Djwal Kul', the 'Master D.K.', 'D.K.', or simply 'DK'), is believed by some Theosophists and others to be a Tibetan disciple in the tradition of ancient esoteric spirituality known as The Ageless Wisdom tradition. The texts describe him as a member of the 'Spiritual Hierarchy', or 'Brotherhood', of Mahatmas, one of the Masters of the Ancient Wisdom, defined as the spiritual guides of mankind and teachers ancient cosmological, metaphysical, and esoteric principles that form the origin of all the world's great philosophies, mythologies and spiritual traditions. According to Theosophical writings, Djwal Khul is said to work on furthering the spiritual evolution of our planet through the teachings offered in the 24 books by Alice Bailey of Esoteric Teachings published by The Lucis Trust; he is said to have telepathically transmitted the teachings to Bailey and is thus regarded by her followers as the communications director of the Masters of the Ancient Wisdom.