Why are these blasphemous names?
His/Her Royal Highness
Holy Father (Pope)
His Holiness (Pope)
His Eminence
His Grace
Imperial Majesty
Serene Majesty
Lordship
Most Reverend
Most Worshipful
The great name of blasphemy was that the Emperor Caesar went beyond Augustus to being called Lord and being deified as a God. Once a year each citizen had to appear before authorities and acknowledge that Caesar was virtually God. Once one did this then he could go worship according to his choice undisturbed. But if one put Jesus or some other version of God above Caesar then he was seen as a danger to the state and was usually executed.
Thus the most blasphemous name on the beast then is when a flesh and blood man like the rest of us is called and worshiped as a God. It is true that even Jesus said that men are Gods (John 10:34) but he was speaking of God in all of us with equality, great and small. Caesar was declared God as one who was special and unique among men. Caesar demanded to be worshipped, and it is blasphemy for one man to worship another man or even see another person as having more rights than he himself possesses.
The interesting thing about the emperors of Rome is that it was not the government who initiated the idea of calling the emperor a God, but it was the people. The early emperors thought it was a silly thing for the people to do, but eventually they were called gods long enough and with enough repetition that they began to believe it and also see the idea would secure more political power.
One does not need to go to the extreme of calling himself a God to his fellow men and women to have a name of blasphemy, but any name that brings you a reverential respect takes away from the glory that belongs to God alone. As I mentioned earlier Jesus was very cautious about not taking away from the respect due God alone.
I'll repeat an earlier example. A man addressed Jesus as "good master." To this he responded:
Why callest thou me good? There is none good but one, that is God." Matthew 19:16-17
Jesus did not even want to take the chance of looking too 'good' to his followers, but now the mindless followers think it is blasphemy to call Him anything less than the goodest, most perfect creator God of the universe."
Here is another example:
But all their works they do for to be seen of men: they make broad their phylacteries, and enlarge the borders of their garments, And love the uppermost rooms at feasts, and the chief seats in the synagogues,
And greetings in the markets, and to be called of men, Rabbi, Rabbi. But be not ye called Rabbi: for one is your Master, even Christ; and all ye are brethren.
And call no man your father upon the earth: for one is your Father, which is in heaven. Neither be ye called masters: for one is your Master, even Christ.
But he that is greatest among you shall be your servant. And whosoever shall exalt himself shall be abased; and he that shall humble himself shall be exalted.
But woe unto you, scribes and Pharisees, hypocrites! for ye shut up the kingdom of heaven against men: for ye neither go in yourselves, neither suffer ye them that are entering to go in.
Woe unto you, scribes and Pharisees, hypocrites! for ye devour widows' houses, and for a pretence make long prayer: therefore ye shall receive the greater damnation.
Woe unto you, scribes and Pharisees, hypocrites! for ye compass sea and land to make one proselyte, and when he is made, ye make him twofold more the child of hell than yourselves. Matthew 23:5-15
Isn't it interesting how clearly Jesus tried to teach the principle of not using a name or title that exalts one person above another because 'all ye are brethren,' yet the churches using His name have not heard?
The Catholic Church has certainly disregarded the command of "call no man your father."
Using the title or name of "reverend" violates the same principle and is blasphemous. One man is to be revered no more than another because "we are brethren" as Jesus taught. Many religions use the title of "Holiness" or "Holy" in reference to their leaders. Many New Agers use the title Master when talking about a teacher, but there is one Master and that is the Christ within all of us. If a teacher does not speak to that center within us then we should ignore him."
Royalty uses all kinds of blasphemous names to God such as "Your Highness," "Your Majesty," "Your Excellency," and so on. Even the idea of one being a king or the divine right of kings is blasphemous. One person has no more divine right to be a king than does another.
Then there are many titles that are not blasphemous because they do not indicate that a man is taking the place of God. A title is correct if it merely indicates the job he is attempting to do in this life such as President, Mayor, judge, Senator, doctor, teacher etc. There is nothing untruthful or disrespectful about these names.
You will find, however, that wherever unjust authority rears its ugly head that the person exercising it will revel in the chance to be called by some title that belongs to God alone.
Then there are religious and political organizations where blasphemous names are not allowed, but the leader is still revered as one who is infallible or able to commune with God in a way that the average guy cannot. This type of fixation corresponds to a name of blasphemy and it will be just a matter of time before the illusionary names surfaces to fit the thoughtform.
Truly great leaders are examples of what we are to become, not examples of holiness that we cannot attain. When is the last time you heard a person with a Godlike title speak in such a way that it spoke to your inner Christ and did cause your heart to burn? Probably never.
Yet many of you felt an inner stirring from reading The Immortal which was written as fiction by a man with no title making no claims. For this I am content because this is the greatest honor that one person can give to another. That is to have that which is within the soul of one light the soul of another like the passing of a candle.
---
Download The Immortal, Book 1, Free as MP3, Text, or PDF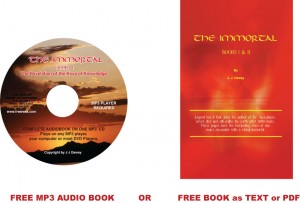 The Immortal is the story of an average truth seeker who stumbles across a fascinating teacher, only to discover that the man is John, the Beloved, the Revelator, an Apostle of Jesus, perhaps the most mysterious man in history, comes alive in this book. Legend has it that John never died and still roams the earth as a teacher. John finds JJ Dewey, the main character, to teach him the Twelve Keys of Knowledge to prepare the world for the new age of peace. The first question addressed in Book I is WHO OR WHAT AM I? The student gives all the standard answers…and they are all wrong. The lead character then realizes he is under the tutorage of no ordinary teacher and must apply himself in a quest for knowledge.
---
"The Beast" on this, and following pages, is taken from the initial writings by J.J. Dewey to the Keys of Knowledge discussion forum on the Internet. Eventually this became a chapter in The Unveiling which is an indepth, and totally unique explanation of the symbols and meaning of the book of Revelation, the last book of the Bible and the New Testament. From Amazon:

After almost 2000 years the key to understanding The Book of Revelation is finally manifest and it is not what you have been taught.First, it is important to understand common interpretations that are revealed to not be true. Among them are:

The Beast is not a powerful Hitler type worldwide dictator.
The mark of the beast has nothing to do with bar codes or a chip implanted in your hand or head.
The letters to the seven churches have little to do with the seven churches.
The two witnesses are not two prophets who will magically appear.
When John said that the things in it will "shortly come to pass" he did not mean it would take 2000 years but he meant a short time just as we interpret the phrase.

The real meaning of the book is nothing like students have been taught but contains teachings in symbolic code disguised as an end of the world scenario to insure it would be included in the canon as we now have it. These teachings, previously hidden from view, tell the aspiring disciple how to tread the path that the Master has outlined. This is why the book was called the "Unveiling of Jesus Christ," commonly mistranslated as "The Revelation of Jesus Christ" - or in short "The Book of Revelation."

Joseph J. Dewey

Joseph J. (JJ) Dewey, born Feb 1945, has been a student of philosophy, metaphysics and the spiritual path most of his life and has taught numerous classes and seminars on a variety of avant-garde subjects.

In his trilogy of books in the Immortal series, the author draws from many true-life experiences to create novels that present unique and mystical teachings in a way that captivates the imagination. What is true and what is fiction? That is for the reader to determine. The trilogy consists of The Immortal, Books I & II in one volume, The Lost Key of the Buddha and Eternal Words.

A fourth Book called The Unveiling is available in the Kindle edition.

Joseph J. Dewey's books on Amazon